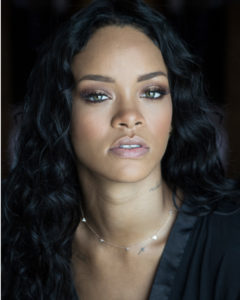 Within the first 10 of her musical career, Robyn Rihanna Fenty became the youngest solo artist to score 14 No. 1 singles on the Billboard Hot 100—the fastest to do so. She's sold more than 54 million albums and 215 million tracks worldwide, making her the "Best Selling Digital Artist of All Time… with more than 100 million [RIAA] Gold & Platinum song certifications." A nine-time Grammy Award winner, Rihanna also counts 14 Billboard Music Awards among other countless music accolades. Aside from her incredible musical achievements and considerable impact in the music industry, Rihanna continues to add more credits to her burgeoning resume: executive producer, fashion designer, actress, business entrepreneur and philanthropist.
Her musical career began in 2005 when Def Jam released Rihanna's dynamic debut album, Music of the Sun. Its popularity was propelled by the highly addictive dancehall-flavored lead single, "Pon de Replay." A year later, Rihanna delivered the platinum-selling sophomore set, A Girl Like Me, featuring the No. 1 singles "SOS" and "Unfaithful."
It was 2007's Good Girl Gone Bad that catapulted Rihanna into icon status. Leading the charge was the album's first single, "Umbrella." The track became the undisputed No. 1 pop song of the summer, dominating the U.S. pop, urban and crossover Billboard charts for 52 weeks in a row, and earning Rihanna her first Grammy Award in 2008 for Best Rap/Sung Collaboration. "Umbrella" was also the No. 1 single on the U.K. singles chart for 11 consecutive weeks and went on to win numerous awards.
That momentum carried over to Rihanna's next album, the emotionally riveting Rated R. The 2009 set's first single, "Russian Roulette," notched chart history as Rihanna's 12th Billboard Hot 100 hit—placing her second among female Hot 100 artists in the decade since 2000. From there, Rihanna released a new top-selling album each year. With 2010's Loud, Rihanna became the youngest artist to achieve ten No. 1 singles when "S&M" reached No. 1 on the Billboard Hot 100. In 2011, Talk That Talk spawned the global hit "We Found Love" which garnered her second MTV Video Music Award for Video of the Year and her sixth Grammy Award for Best Short Form Music Video. Rihanna embarked on the "777" tour in November 2012 where she performed in 7 countries in 7 days leading up to the release of her seventh studio album, Unapologetic. This album was the singer's first No. 1 debut on the Billboard 200.
Rihanna is an unstoppable force on the worldwide touring front, and is the first female solo artist to sell out ten concerts at London's O2 arena. Her world tours, including the Diamonds World Tour that wrapped in November 2013, have taken the icon to more than 100 countries each time, selling out arenas and stadiums. Following that tour, Rihanna was honored with the first-ever Icon Award at the 2014 American Music Awards.
In 2016, Rihanna made chart history with her album ANTI, achieving her second consecutive #1 album with 166,000 in first week sales. ANTI's lead single "Work" featuring Drake, hit #1 on iTunes in 91 countries less than 36 hours after its release. "Work" has become Rihanna's 27th Top 10 hit on Billboard's Hot 100, tying her with Mariah Carey, Janet Jackson and Elton John for the fifth-most Top 10s in Hot 100 history.
That same year, Rihanna completed the North American leg of THE ANTI WORLD TOUR performing nearly 40 shows in places such as New York City, Los Angeles, Toronto, Chicago, Vancouver, Washington DC and more. In June 2016, Rihanna continued with a European leg of the ANTI tour with dates in London, Amsterdam, Berlin, Milan, Vienna and more. The Weeknd and Big Sean were featured as special guests on all European dates.
Rihanna's creative muse has also triggered various entrepreneurial and philanthropic pursuits. Her innate sense of style—from cutting-edge hairstyles to immaculate fashion foresight—has secured her icon status. In September 2017, Rihanna launched FEИTY Beauty. The first-ever global beauty launch in history, FEИTY Beauty by Rihanna premiered simultaneously online and in 1,620 stores in more than 17 countries. From packaging design to formula and shade development, she is intimately involved in every aspect of the brand's creation. Since the brand's launch, FEИTY Beauty has expanded their in-store and online presence at Ulta Beauty adding over 1,300 new locations to pick up the products.
In May 2018, Rihanna launched her lingerie collection, SAVAGE x FENTY. Inspired to create a line of intimates that complements a variety of shades and shapes, Savage X Fenty celebrates fearlessness, confidence, and inclusivity with sizes from 32A – 42H in bras, and XS-3X in undies and sleepwear. Expanding its inclusivity even further, SAVAGE X FENTY launched its first men's lingerie line in January 2022.
Each year, the SAVAGE x FENTY brand showcases their latest collection in an annual Fall/Winter SAVAGE x FENTY Fashion Show on Amazon Prime video. The Show features a combination of models, actors and dancers wearing the latest savage styles. Past performances have included Halsey, Migos, DJ Khaled, Big Sean, A$AP Ferg, Miguel, Rosalía, Bad Bunny, Normani, and BIA among many others.
In May 2019, Rihanna launched FEИTY and partnered with LVMH to create an original new luxury fashion brand. That same year, the brand won the "Urban Luxe" Award at the British Fashion Awards held at Royal Albert Hall in London, just six months after the brand launch.
In February 2020, Rihanna was honored with the NAACP President's Award, which recognizes special achievement and distinguished public service. In August 2021, FORBES announced that Rihanna's net worth was an estimated $1.7 billion, making her the wealthiest female musician in the world. In April, she made her debut on Forbes's annual World's Billionaires list.
Not stopping there, Rihanna continues to use her influence for good by amplifying several philanthropic efforts. Chief among these is her own Clara Lionel Foundation. The Clara Lionel Foundation (CLF) was founded in 2012 by Robyn "Rihanna" Fenty in honor of her grandparents, Clara and Lionel Braithwaite. CLF invests in climate justice initiatives in the Caribbean & United States and helps communities prepare for and withstand natural disasters.
In 2012, Rihanna made her acting debut in the theatrical film "Battleship." Rihanna also voiced her first animated character, Tip, in the DreamWorks film "Home." In addition to providing three singles to the film's soundtrack, Rihanna curated the entire compilation. In 2017, Rihanna appeared as "Marion Crane" on the fifth season of Bates Motel. On the big screen, Rihanna appeared in "Valerian and the City of a Thousand Planets" (2017) and "Ocean's Eight," (2018). In 2019, Rihanna appeared in Hiro Murai's directorial debut "Guava Island," a story by Donald Glover.